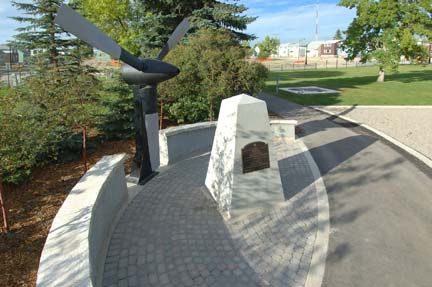 I've been spending a great deal of time in Garrison Green lately, specifically at 2661 Dallaire Ave. SW. Directly across the street from this address is Buffalo Park, which at first glance is the site of a very busy playground.
This square piece of land is actually much more than that.
If you visit Buffalo Park you'll find a monument that reveals the reason for it's name. I came home the day I first visited and surfed Google for some more info.
It is named in honour of nine Canadian Forces members killed in a Buffalo aircraft over Syria in 1974. The monument has a Buffalo aircraft propeller, plaque and a playground as part of its surroundings.
This incident took place on Aug. 9 of that year when, while on a routine flight a plane was shot down by Syrian Armed Forces. All nine crew and passengers were killed.
It's because of that event that Aug. 9 was decided on as the day it would be National Peacekeepers' Day in Canada. Just a couple of blocks away from Buffalo Park is Peacekeepers' Park, where each year a memorial is held. You can park and visit both together any day of the year.
I'll spare you my regurgitation on details about Buffalo Park and the event by pointing you to some really good reading on the Buffalo Nine that I discovered at the link below if you are so inclined. It includes photos of all nine who lost their lives that day.